An Austrian atheist has won the right to be shown on his driving-licence photo wearing a pasta strainer as "religious headgear". Niko Alm first applied for the licence 3 years ago after reading that headgear was allowed in official pictures only for confessional reasons. Mr Alm said the sieve was a requirement of his religion, pastafarianism.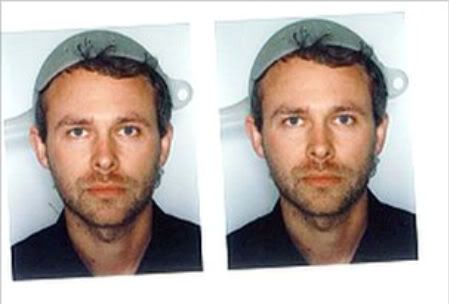 After receiving his application the Austrian authorities had required him to obtain a doctor's certificate that he was "psychologically fit" to drive.
The idea came into Mr Alm's noodle three years ago as a way of making a serious, if ironic, point. A self-confessed atheist, Mr Alm says he belongs to the Church of the Flying Spaghetti Monster, a light-hearted, US-based faith whose members call themselves pastafarians.
The Flying Spaghetti Monster's followers were out spreading the word about His Noodly Appendage. By QXZ
The group website states that "the only dogma allowed in the Church of the Flying Spaghetti Monster is the rejection of dogma".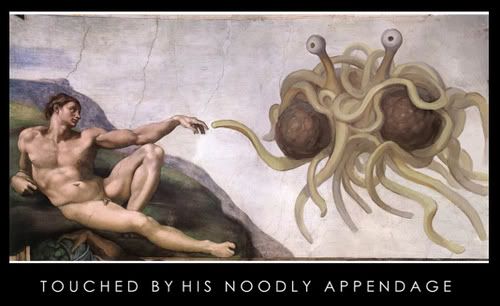 In response to pressure for American schools to teach the theory known as intelligent design, which some Christians favour as an alternative to natural selection, the Church of the Flying Spaghetti Monster wrote to the Kansas School Board asking for the pastafarian version of intelligent design to be taught to schoolchildren.
Reading the Gospel of the Flying Spaghetti Monster 77:365. By andreasnilsson1976
The next step, Mr Alm told the Austrian news agency APA, is to apply to the Austrian authorities for pastafarianism to become an officially recognised faith.
And I looked up, and behold, the heavens parted, and he who is noodly, and without too much sauce, came forth and I beheld him. Lo I did taketh up mine camera digitalis, and I didst snappeth upon thine earth this pictureth. And there was much rejoicing. yayyyy. By dougnaka
So, a highly competitive, souls salvation battle, goes on.
Do not try this at home, in public or to yourself unless you are a Pastafarian